Weddings are a big deal that requires tons of work and planning. To plan a wedding, you must consider many decisions—from the wedding dress to what goes in your bouquet to how many guests you should have. With Wedding Transportation Atlanta, it's possible to have a gorgeous, seamless-running wedding. This is the perfect gift for the bride, groom, and wedding guests. Give your guests something extra special on your big day. Have them return to their hotel with your luxurious wedding shuttle service. This will make your guests arrive on time despite Atlanta's traffic, complicated public transportation system, and difficult weather conditions. Rather than worry about being late to an event or missing an exit on the highway, your guests will be able to celebrate your love while they look and feel great! You'll want to ensure your guests will be at your wedding reception on time and find each location easily. Having a wedding limousine service will help you plan this event. We have a transportation package that covers every detail of your wedding limo rental needs, from start to finish, and makes it easy for you to enjoy your day without the stress of managing details. Our wedding limo prices are so low that they can't be beaten. Wedding chauffeur service ensures you get where you need to be on time and in style so you can enjoy the entire day. Our luxurious fleet of party bus is perfect for events like :
Wedding Limo Service Atlanta
Are you planning a wedding in Atlanta? Congratulations! When planning your wedding and organizing guest lists, venues, and tasting cake, let Party Bus Atlanta GA experts help you with wedding transportation. Make sure you choose the best transportation services for your event. With a large selection of wedding limousines and a 24-hour reservation team on your side, you'll enjoy an enjoyable and stress-free nuptial celebration. We are the leading provider of wedding shuttle services in Atlanta, Georgia. We specialize in luxury transportation for today's brides, grooms, and wedding planners.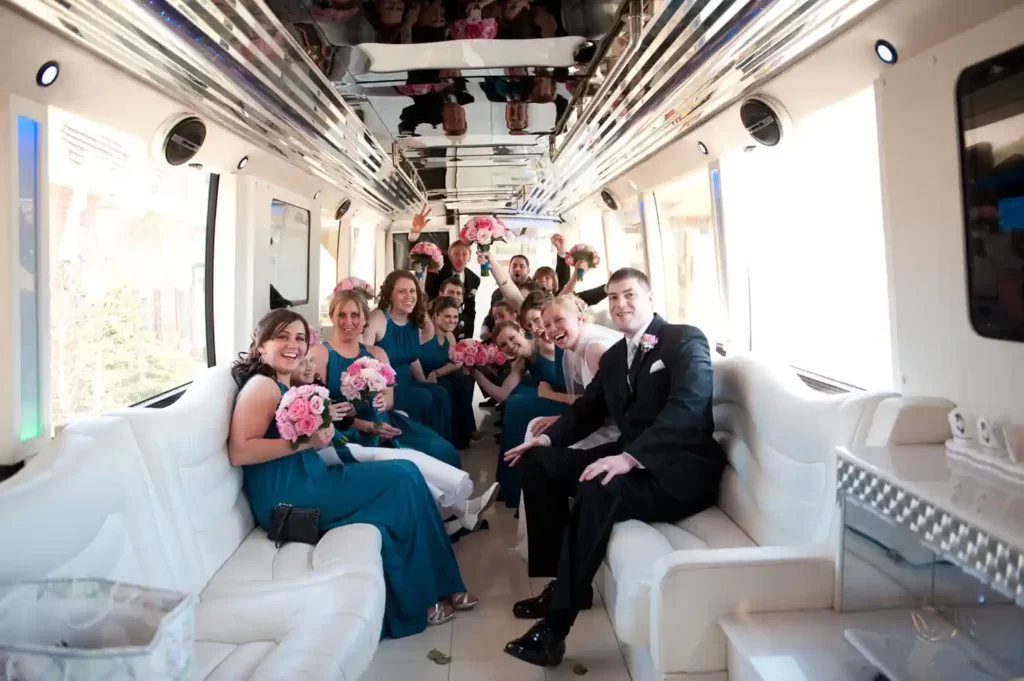 Our trained team of professionals are ready to organize and deliver your luxury limo service needs for the best wedding transport Atlanta experience. Our Wedding Limo Service Atlanta has a reputation for offering hundreds of brides and grooms the highest quality services at affordable rates. Your guests will love our elegant, luxury wedding limousine. We can provide a customized wedding shuttle bus to accommodate your needs. For your special day, we also provide birthday limos and prom limos for you and your guests. Planning and setting up transportation for your wedding party and guests is a good idea to ensure everything goes smoothly. Arriving on time and looking your best will set the stage for the most incredible day of your life. The team is excited to serve you during this exciting time in your life. We have a few of our most requested birthday party packages built around:
Luxury Wedding Limousines Transportation
Atlanta Wedding | Wedding Atlanta | Wedding Transportation | Atlanta Wedding Transportation | Wedding Limousine Rental | Wedding Shuttle Service | Wedding Limo Service | Wedding Transportation Atlanta | Wedding Limousines | Limousines For Wedding | Limo For Wedding | Wedding Shuttle Bus | Atlanta Wedding Shuttle Bus | Wedding Transport Atlanta | Wedding Chauffer Service |Best Wedding Package | Best Wedding Transportation | Wedding Limo Service Near Me | Wedding Service | Cheap Wedding Service | Wedding Party bus Rental | Party Bus For Wedding | Limo Service For Wedding |